Rachael made a variation of this recipe the other day and it was exceptionally delicious. The earthiness of the lentils, the lightness of the coconut, and the warm and fiery taste of fresh ginger make for a wonderful taste treat. Rachael didn't have the roasted carrots but I think they would be an excellent addition. I plan to make this tomorrow. Can't wait!
CREAMY COCONUT CURRY LENTILS WITH SPINACH
from https://www.budgetbytes.com/creamy-coconut-curry-lentils-with-spinach/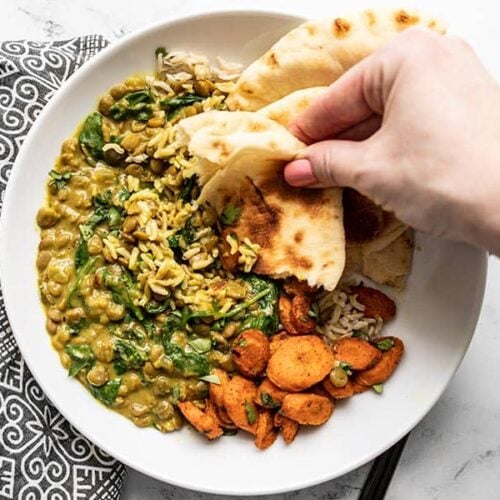 PREP 5 mins
COOK 40 mins
TOTAL 45 mins
INGREDIENTS
2 Tbsp olive oil 
2 cloves garlic
1 tsp grated fresh ginger
1 small yellow onion
1 Tbsp curry powder 
1 cup brown lentils (dry)
2 cups vegetable broth 
1 13oz. can coconut milk 
3 cups fresh baby spinach 
For Serving (optional)
4 cups cooked rice
1/4 cup chopped fresh cilantro
INSTRUCTIONS
Mince the garlic, grate the ginger, and dice the onion. Add the olive oil, garlic, and ginger to a deep skillet, Dutch oven, or soup pot. Sauté the garlic and ginger over medium heat for 1 minute, or just until the garlic becomes soft and fragrant.
Add the diced onion to the skillet and continue to sauté over medium until the onion is soft and translucent. Add the curry powder and continue to sauté for about one minute more to toast the spices.
Add the dry lentils and vegetable broth to the skillet. Stir to dissolve any browned bits from the bottom of the skillet. Place a lid on top, turn the heat up to medium-high, and bring the broth to a boil. Once boiling, turn the heat to low, and let it simmer for 20 minutes, stirring occasionally.
After simmering for 20 minutes the lentils should be tender and most of the broth absorbed. Add the can of coconut milk and stir to combine. Turn the heat back to medium and allow the skillet to come back to a simmer. Let it simmer without a lid for an additional 10 minutes, stirring often, to thicken the mixture.
Once thickened, turn the heat off. Add the fresh spinach and stir gently until the spinach has wilted. Taste the mixture and adjust the salt or curry powder to your liking, if needed.
Serve over a bowl of rice, and top with chopped cilantro if desired.